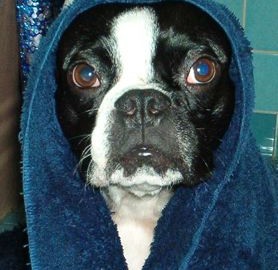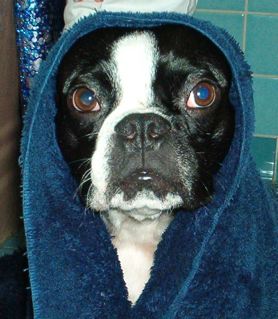 Meet Othello. He is one of our two Boston terriers. We rescued him seven years ago and his life has changed dramatically from chains, kicks, and starvation, to welcoming laps and homemade doggie food.
He frequently appears in my dreams, and most times, I scratch my head to figure out what he symbolizes—it seems to vary.
Recently, I dreamed that I had saved for and purchased a stunning engagement ring—to give to Othello! My husband and I gathered friends and family for the presentation, and when everyone arrived, I realized how RIDICULOUS this idea was. I changed plans quickly, hid the ring, and spoke words of encouragement to the group instead.
My interpreter friend, Janie, and I brainstormed the possible meanings of dogs in dream interpretation:
A friend, someone loyal and devoted
An enemy (if the dreamer is not a dog lover), someone who 'bites and devours', someone to keep a close eye on
A 'pet' project, adventure, something really special in my life
Someone I feel responsible to take care of—I am an empty nester, so for now, Othello is my 'baby'
A person with his characteristics—abused but rescued and healed
'Othello' means 'wealthy' or 'obedient'
An idiom—something valuable 'going to the dogs'
Since he sleeps under the covers in my bed, maybe he was snoring and breaking into my dream
Or, maybe he just represents something that isn't fitting for something like an engagement ring. He doesn't even have ring toe!
I felt quite foolish as I processed my dream.
As I questioned my own judgment, my precious friend summed up: in the dream, just as I am about to sacrifice a personal gift for a special, yet inappropriate situation, I recognize the problem and adjust my focus and action before it is too late. My 'giving' or 'commitment' is going to look different than I thought—I would see a much better option.
In other words, "Be careful where you invest, make sure it is wise. You possess the wisdom to make the right decision."
Actually, I can think of several areas of my life where this message would apply. I am on the verge of several major decisions, most of them regarding investment of my personal 'resources'. Any or all of our possible dog meanings could seem to fit in this particular dream. Next time, who knows? Maybe only one will stand out.
Once again, the Giver of Dreams communicates much-needed encouragement to me—in perfect timing.
http://destinydreamz.com/wp-content/uploads/2014/07/family-035.jpg
319
278
Merry Bruton
http://destinydreamz.com/wp-content/uploads/2017/07/white-1.png
Merry Bruton
2014-07-23 18:52:46
2017-01-03 21:24:32
Darling Doggone Dog is in my Dreams