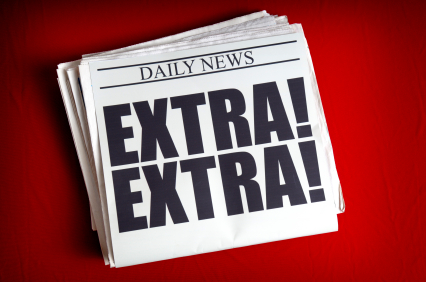 Recently I dreamed that I was relaying a story to someone, and as I spoke, the person was reporting what I said to the media outlets, except they enhanced many of the details, I thought in an attempt to get headlines and more attention for their 'news'. (I literally 'saw' the dramatic captions being scripted by a hand). I felt frustrated at the seeming sensationalism of my 'facts'.
At first I took this dream as a caution to monitor my tongue carefully—to watch what I say—as well as better discern my audience. To develop more awareness of the power of my words, as well as the potential of being used or misrepresented—intentionally or not—by someone else.
It seemed to be a negative dream.
But I got to thinking how God sometimes works things out by taking our insignificant 'details' and adding his divine spark to what we do or say, in order to make our life messages more effective, more powerful, more far-reaching. The goal is to draw people closer to him.
I pray and ask God to use me however he chooses, and then I get frustrated—because I feel USED!
Rather than operating out of suspicion or fear, I need to make sure I welcome Spirit's favor, highlighting, and editing, so that I project from a faith that my words and life can make a difference.
With more 'publicity' comes more scrutiny. And that usually means more critics. And further character-shaping. Hence, the continued need to choose words and attitudes more carefully. It is a constant growth process.
May we daily choose to speak and interact in our world with deliberate, utmost integrity, out of the hope that what flows out of us can make the Headlines instead of the Sidelines.
http://destinydreamz.com/wp-content/uploads/2014/06/headline.jpg
282
426
Merry Bruton
http://destinydreamz.com/wp-content/uploads/2017/07/white-1.png
Merry Bruton
2014-06-11 01:56:21
2017-01-06 20:35:27
Headlines Instead of Sidelines