Getting Married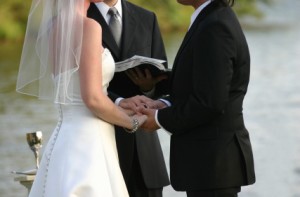 Dreams of getting married can often represent desires of the dreamer to step more 'engagingly' into a commitment—with a person, a cause, or an organization.
These dreams may represent spiritual longings for something 'deeper' in life, a new phase—or they can also represent a personal yearning for a particular relationship. 
Most people interpret marriage dreams too literally!  Dreaming of  getting married to someone doesn't mean go ahead and make wedding plans in real life.  
What are the qualities of the person in the dream that you are most attracted to? What might your 'dream' partner represent?  Could their abilities or  characteristics be something you want to incorporate into your life?  
Try to think symbolically FIRST when interpreting.   
Getting married dream:
I was living in a high-rise apartment, with huge windows on a top floor.  The rooms were all a magnificent pink color.  My first love (from many years ago) came up the elevator to take me–to our wedding!  I was getting ready—wanting to look as beautiful as possible for him.  It was taking me forever and I was afraid he wouldn't wait for me.  To my surprise, though, he waited—and WANTED to wait for me.  I felt so very much in love.
Dream Interpretation:
Your dream is revealing your long-time yearning for a wholehearted passion in life—perhaps literally with a special particular relationship.  You have been in a season of preparation to receive and pursue, and are struggling with fears that you may ultimately miss out.  But your dream is given to reassure you that this time of preparation is not being wasted—you will not miss out on your desire for MORE.
******************************
Wedding problems dream: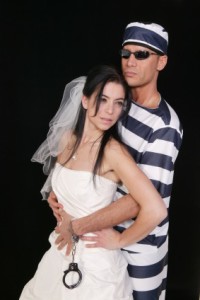 I dreamed I was getting married.  The groom was the brother of an old friend (we've never been romantically involved).  Throughout the dream I was having doubts and was wondering if I was doing the right thing.  I did not even think he was that attractive!  I started to introduce him to people as my husband, seeing if something would 'click' when I said these words, but nothing did.  I noticed I was wearing high heels but white bobby socks over my nylons–that looked very odd.  I found out my best friend wouldn't come to the wedding for several reasons, and I was really wondering if I was doing the right thing.
Dream Interpretation:
Your dream says that you are making a commitment to someone or a group, but are wrestling with uncertainties about the situation.  Even though you may imagine a few 'perks', there seems to be little confirmation to support going ahead with this decision. You are given the dream to highlight your ambivalence–which may indicate a potential problem–and to affirm your desire to walk wisely with maturity.
Getting Married Dreams
Send your dream to be interpreted by a professional dream interpreter.
Compare your dreams to commonly experienced dreams and our example dream interpretations.
Set up your free, private online dream journal to record your dreams. You can return to your journal as often as you like.
If you like what we do, please spread the word and link to us. We love to see people benefit from their dreams.
Consider scheduling a session of  one-on-one mentoring, or group sessions in person or online.
Schedule classes, workshops, seminars of any length–regarding dream interpretation, team outreach training–and activation.