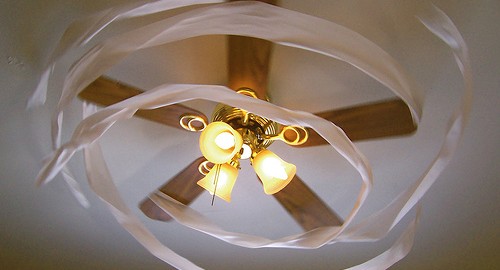 After over a year of developing a tolerance for the fuzzy growth of dust on my ceiling fan light fixtures, the moment finally arrived—time to tackle the chore. It took several hours to dismantle the lights, unscrew dozens of tiny screws, wash glass parts and light bulbs, and vacuum the fan blade edges that had accumulated alarming amounts of dust strata.
The amazing result: brighter light in the room, less visible 'sunbeams' floating and settling, a feeling of satisfaction instead of procrastination and embarrassment. I ask myself, "What took me so long? That job wasn't so bad."
I often wear a T-shirt that says, "I am a radiating center of Divine Love". A wealthy concept. God is the Source of light and love, which he infuses into his children. Our primary job in life is to reflect or radiate.
All too often, though, we deaden our effectiveness by developing dull and lazy habits, neglecting attentiveness in keeping our spiritual lives fresh and CLEAN. We enable the tiny daily grime particles of life to build up and weigh us down, darkening our flow of 'light' and movement of Spirit, allowing our issues to sometimes become eyesores and heartaches for people around us. We empower light obstruction.
Most times, if we will take the first step to contend with an issue, others will come along and provide extra, needed elbow grease, and God also loves to equip and empower a willing heart. The job can even be enjoyable sometimes.
These days, there is dire need for the Divine fireblaze within each of us to en-'lighten 'and dazzle a dark and negative world. A little cleanup effort goes a long way in launching us further into brilliant, change-agent destiny.
What areas of your life could use a little polishing?
http://destinydreamz.com/wp-content/uploads/2014/07/fan2.jpg
353
500
Merry Bruton
http://destinydreamz.com/wp-content/uploads/2017/07/white-1.png
Merry Bruton
2014-07-20 02:42:59
2017-01-03 22:14:11
No More Dusty Ceiling Fans or Light Obstruction