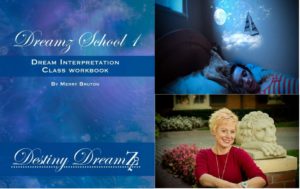 These are per-recorded classes that you work through in your own time (within a 90-day period) and at your own pace. A workbook is available and you will have the opportunity to interact with a tutor via email or Facebook with questions and assignments.
These classes have been developed with over 20 years of study and experience in dream interpretation
Did you know that your dreams are 'night time' messages that can be used to guide you in your waking life? Learning to unlock your dream meanings brings a greater spiritual understanding of your current circumstances, answers to dilemmas you may be experiencing, directions to step more fully into God's plan for your life–your destiny or calling.
In taking this class, you can expect to:
• increase your understanding of dreams
• strengthen your symbolic interpretation
• learn and practice basic interpretive principles
• heighten your sensitivity to God's voice
Curriculum includes:
–History of dreams in culture
–Purposes, types, and sources of dreams
–Basic tools in interpreting and understanding dream meaning
–Symbols in dreams
–Memory and journaling techniques
–Commonly experienced dreams
–Nightmares and lucid dreaming
–Spiritual listening
–Helping others with their dreams and prophetic outreach
–Work through your own dreams in a group
–Class notes, exercises, and activation
You will need to order the workbook separately.