Description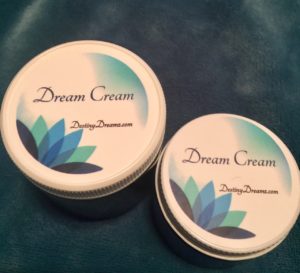 I've been experimenting with blends of oils and other ingredients to create Dream Cream for deep sleep that could potentially promote your nighttime relaxation and sleep cycle.  It smells wonderful and is good for skin as well.
I'm a dreamer and my profession and passion is dream interpretation.  I think it is not fair to suffer insomnia and therefore, dream drought!  If we get good sleep, then we get to dream more, plus we feel great the next day.
Try my special blend…it may help you fall asleep faster and stay asleep.  Read my blog Insomnia No More!  Move from Not Sleeping to Deep Sleeping for more ideas to help you sleep deep. Let me know if you need guidance because that is an area I pressed through to get victory over, as well as depression that often comes from consistently not sleeping.
Enhance the benefits of Dream Cream by voicing aloud Dream and Sleep Declarations to align yourself toward deeper sleep.  Our words are powerful and if we deliberately declare deep peace and sleep before we go to bed, we train our brains to respond.  I've done this and it works wonders!
Directions for use:  Crawl in bed and rub a little Dream Cream on the bottoms of your feet.  Order the Dream and Sleep Declarations card (you can print a free copy here) and read it out loud over yourself, or have someone read it over you.  Close your eyes, take some deep breaths, (sniff your hands and smell the Dream Cream as you do), and get ready to dream!
Do this for 30-60 days to create a good relaxing habit before dreamtime.
Ingredients, all organic in a 4 oz beautiful cobalt blue glass jar:  Coconut oil, shea butter, grapeseed oil, magnesium oil, beeswax, Vitamin E oil, and lavender and cedarwood oil (I only use Young Living oils).
Dream Cream is safe to use on your children too.  Let me know what you think
Dream Cream for deep sleep comes in 4 ounce beautiful cobalt glass jars with plastic lids.
Coming soon:
Dreamy oil blends to diffuse and apply at bedtime, Whole Heart oil (for emotional healing), Sleep Salve, bedtime spray, and more!
Dream Cream for Deep Sleep